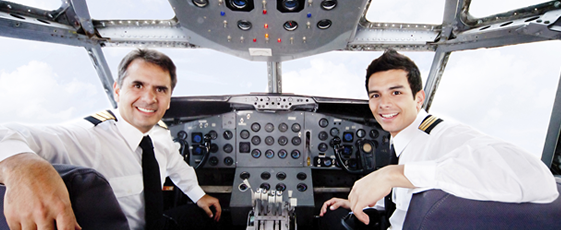 A few days back, while I was waiting to board my flight at the airport, I caught myself admiring two smart pilots walking towards the boarding gates. They walked side by side and strode purposefully. They looked straight ahead – chin held high, shoulder straight, uniform immaculate. They looked very serious and seemed to have no time for chit-chat. Their eyes were fresh and clear – and in short – they looked ready to fly around the world.
I then, noticed a second crew around the next gate – also walking towards their boarding gates. The two pilots looked the same age, but there was something wrong – they looked disheveled and tired. They looked as if they had literally got up from sleep and were walking in. They definitely did not look purposeful as I could see them joking and laughing all the time. They seemed to be having fun – talking to each other but definitely didn't look serious.
Let me admit it, I was glad that they were not flying me!
Which crew would you want?
I am sure you would have also chosen the first set of pilots for yourself.
In your mind is familiarity more important than fatigue in a flight crew?
I am sure most of you will say that fatigue is more dangerous in pilots – we tend to take terrible decisions when we are tired.
Well here's a research that will change your mind. An analysis by the National Transportation Safety Board of air carrier accidents found that 73% involved crews on their first day of flying together.
Additionally, NASA undertook research in 1986 that gave a clear conclusion. Even fatigued crews that have flown together previously make half the errors of rested crews that have never flown together.
To summarize this bluntly: Flight crews that have not flown together before are definitely not the ones that you should choose.
Research has proven that cohesive teams are able to direct and produce more profits. And yes, there are methods to remove the guess work in assessing team intelligence. Here's a sneak peek into what makes a great team:
Dealing with differences
Trusting each other
Creating a meaningful context
Handling conflict and tension
Problem solving and decision making
Belief that they collectively have the ability to achieve more
Perform their respective roles.
There are ways of assessing the cohesiveness of the team and coaching them. Hit the reply button to know more on how we can help you understand your team intelligence.
At Able Ventures, we help realize human potential by engineering people experience. We have impacted over 150,000 professionals across 150 companies. Choose us as your people consulting partner.