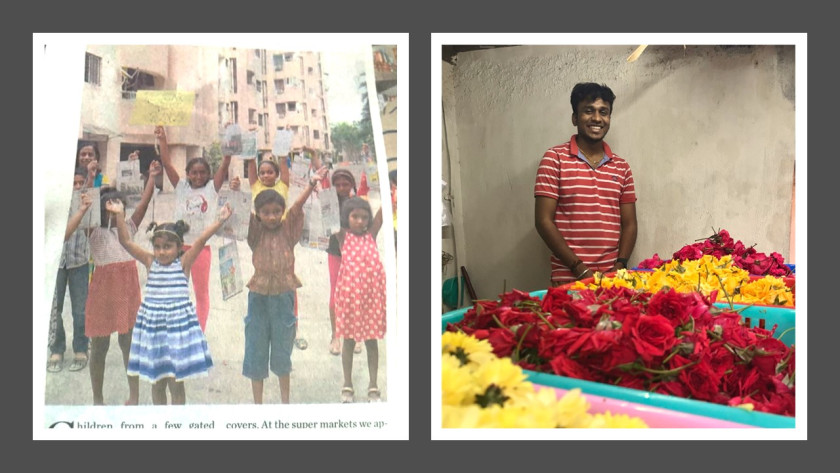 A year back, my daughter and her friends embarked on a new adventure. Inspired by their teacher and wanting to make a difference to our world, they started an initiative to replace all plastics bags being used by residents from local shops to cloth or paper bags. Many evenings were spent strategizing and thousands of paper bags were made by tiny hands. Groups of children were given different tasks and all of them were held responsible for execution. The biggest culprit they figured was the lady who sold flowers in the society. She delivered small packets of flowers for puja in tiny plastic bags. The kids estimated that she needed at least 400 bags every day and to replace so many bags seemed like an impossible task. Slowly, after a couple of weeks, enthusiasm waned, the team disbanded, and all the children went back to their normal play (the plastic bag story conveniently forgotten).
2 months back, the flower store changed ownership and is now being run by a young boy. As soon as she saw the new face at the flower store, my daughter was excited again, hoping that the young boy would help her. She went eagerly and gave him 500 paper bags and explained the whole story to him. The boy nodded his head, but after two days came back and returned all the paper bags. My daughter was in tears, saying no one understood the importance of environment protection.
As a mother I wanted to rant along with her. The adult in me tried out various reasonings. A day later, cloth bags appeared at our doorstep filled with fresh flowers. In the evening, of his own volition, he came around and explained his version of the story. He said, "Making paper bags everyday would be tough for these kids. I will get the residents to adopt cloth bags in a few days."
One month has passed since this conversation with him. At the last count, except for 2-3 residents out of the 400 odd clients he has, all have adopted cloth bags. He followed a simple nudge. Ring the bell and ask for yesterday's cloth bag. Over a period of time, residents got used to the ringing of the doorbell at the same time every evening. Before he could ask, they proactively started hanging the used cloth bag on the door step.
A simple nudge has helped in saving over 1,46,000 plastic bags being dumped into the garbage every year. A simple repeated task over a period of time can help in overcoming difficult behaviour.
Influencing behaviour is not a complicated science. It is clearly figuring the one link that will change the game plan. Like they say, 'Where there is a will, there is a way'
All of us face the task of influencing behaviour- team members, bosses, clients, suppliers etc. Influencing change is the biggest task all of us face. Britain established a behavioural insights team in 2010 which helps the government in figuring these nudges to influence public behaviour. In Denmark, all litter bins were changed from green to orange colour and they saw a 50% decline in littering.
A gentle but smart nudge can go a long way in getting our work done. Write to us on smita@ableventures.in with your challenges and we will help you figure a way to influence behavior. It is all about the links and figuring which link would be the best leverage.